Baseball
Our Baseball program is brand new to the Sports Academy in 2017. The program is designed to enable student-athletes wishing to take their baseball skills to the next level. Our program already boasts Australian Representative players.

Dance
Our Dance program is open to all who have a love for dance. Dance styles include Modern, contemporary, jazz, hip hop, tap to name a few. Our head coach of dance is fully qualified and experienced in each dance discipline and will teach our athletes from those just starting out in dance to those who have been dancing for many years.
Netball
Our Netball program is designed to enable the weekend warrior netball player to the elite state, national and international representative, the opportunity to play netball. Our head coach is fully qualified and accredited netball coach with extensive netball experience.
Rugby All Code
Our Rugby All code program encompasses both Rugby Union and Rugby League. Offering athletes Rugby 7's in terms 1 and 4, Rugby League in terms 2 and 3. Coached by leading NRL and ARU accredited coaches, The Academy Rugby All Code program is supported by both the ARU and NRL. 
Football
Our football (Soccer) program will enable athletes of any level to enjoy to the "World" game. Coached by highly experienced and accredited coaching staff, our athletes are taught a multitude of football skills focusing on their abilities and love of the game. Experience of our coaching staff is at not only local levels but also, state, national and international levels.
Tennis
Our tennis program is played on our upgraded tennis courts and gives our athletes the opportunity to be coached by our fully accredited and experienced head tennis coach. Teaching our athletes all the basics of tennis through to elite competition experience.
Touch Football
Our Touch football program enables athletes from all walks of life the opportunity to play the popular sport of touch football. Our coaching staff have extensive experience at all levels of touch football and continue to build upon the success that the school and the academy has had to date within this sport.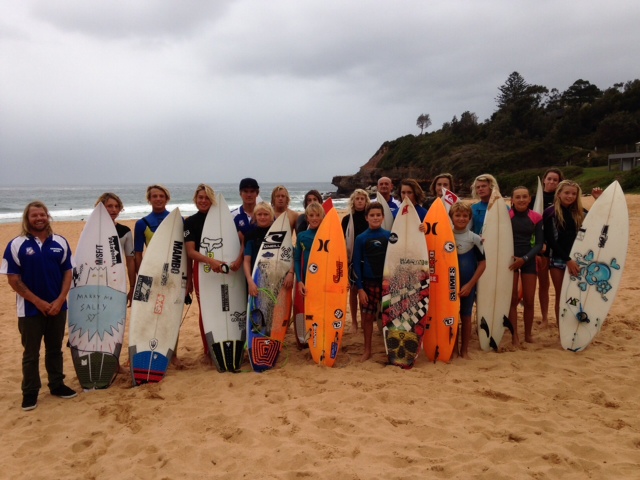 Surfing
Our Surfing program is the only dedicated elite  program in NSW. Our coaches are highly experienced and accomplished professional Surfers who understand the world of Surfing.  

Swimming
Our Swimming program offers talented swimmers the opportunity to train under our highly experienced and accredited coaching staff. Our coaches cater for all levels of swimmers who are achieving outstanding results at Regional, State and National swimming meets.